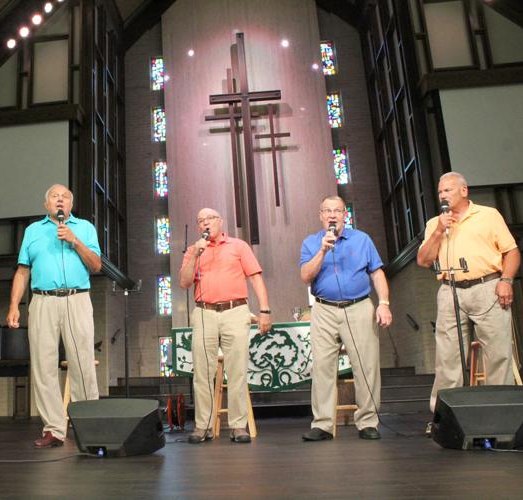 Date
Jul 28 2023
Expired!
HEAVEN BOUND 2.0 and MAIN STREET PORCH BAND Sponsored by Annabelle Yoder Memorial Fund
Heaven Bound 2.0 is a ministry quartet from the First United Methodist Church in
Auburn, Indiana. The group formed in 2004, and after a hiatus which began in
2012, the group is singing once again. Their most recent concert was a fundraiser
to save the St. John's United Church of Christ's stained-glass windows in Ashley.
The group performs Southern Gospel music and leans heavily on the Gaither
Vocal Band's selection of music. Group members include Jerry Yoder, Bernie
Muzzillo, John McLaughlin and Galen Anspaugh; Carol Foley is their accompanist
who sings back-up harmonies. All of the men are involved in the choir at the First
united Methodist Church, and Carol is the musical director and cantor at St.
Michael's Catholic Church in Waterloo.
The group recorded a CD prior to their hiatus, which includes vocal work from two
of their deceased original members – Bill Jones and Dale Williams. There is a local
church that is still using this CD during their worship time at church. Audience
participation is welcomed at all their concerts!
Main Street Porch Band is comprised of Tim and Sharon McEntee, who have been married and
playing music together for over three decades. Tim plays keys, accordion, and harmonica.
Sharon plays guitar and mandolin. Both sing, with Sharon on lead vocals and Tim adding
harmonies.
Additionally, Sharon writes songs that are faith focused. As Main Street Porch Band, they have
recorded several of her originals. The songs are available on Spotify, iTunes, Amazon Music and
other streaming services, as well as on CDs.
Currently, Tim and Sharon serve on the worship teams for Dayspring Community Church here in
Auburn and Hamilton Church of Christ. Outside of church, when performing in local
restaurants, coffee houses, and at special events, Main Street Porch Band plays readily
recognizable music. Singing along by audience members is encouraged! Music from folk, rock,
and country genres are included in their sets, and songs are pulled from every decade from the
1960's till now.